Bags of Hope
Help Hope Missions Meet Physical Needs

HOPE MISSIONS is often asked by individuals and churches about Supplies that are needed for our Short-Term Mission Trips. Hope Missions provides Gospel Tracts and materials needed to conduct many projects. However, we have been looking for ways that people can be more involved in meeting other needs. A couple of ideas were birthed from our most recent trip to Costa Rica. Below are details on how you and your group can help meet these important physical needs.

BAGS OF HOPE
A great need in every country we serve is for school supplies. Children in many countries are required to wear school uniforms and provide basic school supplies. Severe poverty keeps many families from providing these basic needs. This is a need that can be easily met by individuals and churches. Hope Missions wants to provide needy children with a BAG OF HOPE. Below is a list of items that are needed for these bags.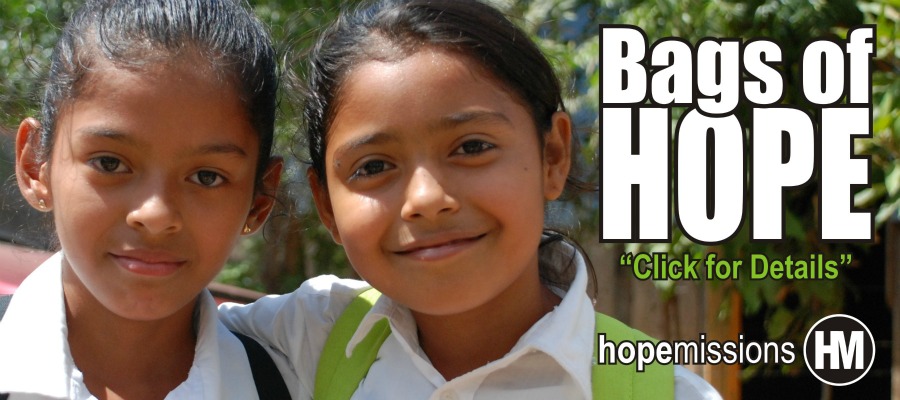 - 1 Pack of Pencils
- 3 Spiral Notebooks
- 1 Pack of Coloring Pencils
- 2 Pencil Sharpeners
- 1 Pack of Erasers
- 1 Ruler
- 1 Small Retractable Umbrella
- $40 for School Uniform & Shoes

Hope Missions will provide a Special Bag to fill with these needed items. You can order bags from Hope Missinos to be shipped to your church to fill and return. Or, you can collect needed items and ship them directly to Hope Missions to be filled prior to each of our trips. Checks for uniforms ($40 each) should be made payable to HOPE MISSIONS. Uniforms will be purchased in each country as needed.

CASES OF BIBLES & CHRISTIAN LITERATURE
Another great need is for Bibles and Christian Literature. Many churches have very limited resources. They desperately need these resources to train and equip their members. Below are links to companies that provide some of these resources. Click on each name to be linked to their website.

- Spanish Bibles
- Haitian Bibles
- Spanish Evangelism Training Curriculum
- Spanish Evangelism Training Book
- Spanish Evangelism Training CD

Would you or your group like to provide one of these resources? Just place your order on the website link and have it shipped to the address below. We will take resources on trips as needed.

In addition to these resources, Hope Missions has recenlty been in contact with a ministry that provides free Christian booklets in many languages. This will be a great supplement to the resources listed above.

SHIPPING INFORMATION
In order to ensure safe delivery, Hope Missions request that all resources be shipped directly to the Hope Missions Director. Orders should be shipped to SHAWN DOSS - 99 CHEROKEE DRIVE - JASPER, AL 35501. Please call Shawn directly with any questions at 256.620.1788. Thank you for your willingness to help us SERVE!