The Gospel Ball is the latest Evangelism Resource from Hope Missions. Soccer has become the most popular sport in the world. Travel to most countries and you will find children gathered together to spend the afternoon playing soccer. The Gospel Ball will be a way to engage their culture with the Gospel of Jesus Christ. The Gospel Ball is a full size, ready-to-play, soccer ball!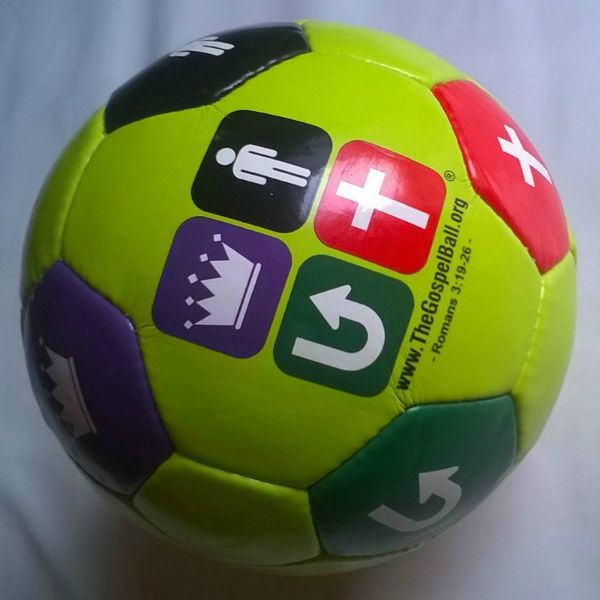 HOW DO I USE THE GOSPEL BALL?
The Gospel Ball is designed with other Hope Missions' evangelism resources - specifically the Gospel Tracts. Our Gospel Tracts (www.thegospeltracts.org) are available at our Online Store (www.thegospelstore.org) in several languages (English, Children's, Spanish, Haitian Creole, Portuguese, Dutch, and Romanian) with other languages being added regularly. The Gospel Ball serves as a constant reminder to the children. It is also a incredible hands-on tool for the leader to share the Gospel. The best part! - Every child gets the Gospel (tracts). Need a specific language in our tracts? If you get us the translation, we will get them printed! Contact the Hope Missions Office for details.

Gospel Balls are Great for: Sports Evangelism, Mission Trips, Children's Ministry, Youth Ministry, Recreation Ministry, Awana Ministry, Give-a-ways, Operation Christmas Child, VBS, Backyard Bible Clubs, and more!


WHAT LANGUAGES DOES THE GOSPEL BALL COME IN?
None! Why? Colors and symbols are used to communicate the Gospel. Hope Missions' has used similar evangelistic soccer balls throughout the years. Some print the entire Gospel presentation on the ball. This is not a bad idea. However, it can create some problems. First, the soccer balls are played with regularly. This continuous use will wear wording off the ball and thus lose the message. Secondly, wording requires multiple languages. No wording requires only one version of our ball. Finally, often only a select few will receive a soccer ball. By using the Gospel Ball in conjunction with the Gospel Tracts, everyone gets the Gospel.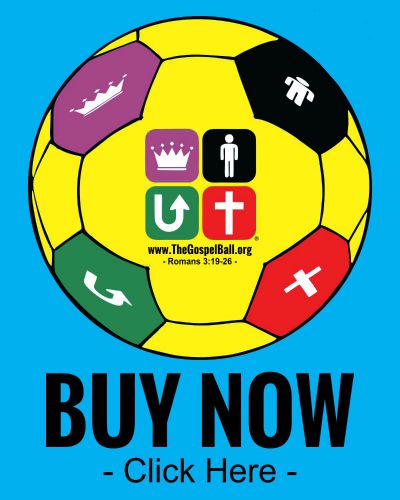 HOW MUCH DO THEY COST?
Hope Missions seeks to make every evangelistic resource as affordable as possible. With this in mind, we have developed a payment structure that rewards churches/individuals for purchasing multiple balls by offering a discount.

DON'T FORGET YOUR TRACTS! Gospel Tracts (www.thegospeltracts.org) are also available at discounted rates when purchased in bulk. Purchase tracts and other resources at our Online Store (www.thegospelstore.org).


WHERE DO I PURCHASE THE GOSPEL BALL?
The Gospel Ball is available on Hope Missions Online Store (www.thegospelstore.org). Place your order today!









is a Registered Trademark of Hope Missions, Inc. - P.O. Box 555 - Jasper, AL 35502 - Reg. No. 4,443,582