KNOW THE GOSPEL CURRICULUM
HOPE MISSIONS is very excited to launch our First Curriculum! For several years, Hope Missions has been passionately committed to equipping and mobilizing missionaries around the world to take hope to the hopeless through the Gospel of Jesus Christ. With the New KnowTheGospel Curriculum, Hope Missions seeks to equip even more believers in this God-given journey. Order your curriculum today from our Online Store - CLICK HERE.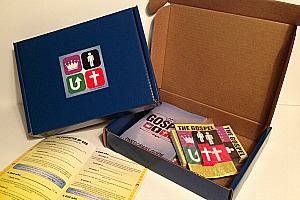 KnowTheGospel is a Four-Part Bible Study focusing on the key elements of the Gospel: The CHARACTER of God, The CONDITION of Man, The REDEMPTION of Christ, and The RESPONSE of Man. CLICK HERE to view a Sample of the curriculum.

Ready to order? Go to the "Gospel Store" tab to purchase the KnowTheGospel Curriculum. There you will find KTG Kits, Leader Guides, Participant Guides, and T-Shirts. You can also purchase Gospel Wristbands and Tracts. Gospel Tracts are available in several languages and available for purchase at our Online Store.

KnowTheGospel Curriculum is designed for a weekly Bible Study or Retreat and is ideal for both Students and Adults. It's also a great resource for D-Now Events, Mission Preparation, and Evangelism Training. Hope Missions Director, Shawn Doss, is even available to personally lead a KTG Event for your church or group. Call the Hope Missions office today to schedule your event.

NEED TEACHING HELPS?


Use the videos on this page to help promote and introduce each of the four lessons. Each of them can be viewed directly from our YouTube page - www.youtube.com/hopemissiontrips. Click on the links below to download the PowerPoint Slides of each session.

SESSION 1 - The Character of God
SESSION 2 - The Condition of Man
SESSION 3 - The Redemption of Christ
SESSION 4 - The Response of Man