Gospel Truck
Hope Missions has a New Evangelism Tool - A Bread Truck! You may be wondering why we would want (much less need) a bread truck. Below is the story and the plans for using this amazing tool.

THE STORY
Hope Missions' Founder and Director, Shawn Doss, was a full-time Youth Pastor at Mt. Vernon Baptist Church in Jasper, AL. Shawn was always looking for ways to engage students in missions and evangelism. One day he came across an article on Metro Ministries (www.metroworldchild.org) claiming to have the largest Sunday School in America. The Sunday School program claimed to reach over 30,000 children weekly! Further reading revealed that this was possible because Metro Ministries used a fleet of converted moving trucks. These trucks traveled throughout Brooklyn, NY every week reaching children where they lived (apartments, neighborhoods, etc.). It was GENIUS! Shawn had to have one.

The journey soon began to acquire a truck to help the students of MVBC reach their community with the Gospel. If they would not come to church, Shawn was going to take church to them. Investigation revealed that the trucks used by Metro Ministries were designed and built by Sidewalk Ministries (www.sidewalkministries.com) in Tallahassee, FL. After several conversations, Shawn settled on a bread truck instead of the traditional moving van for the transformation. Fundraising began immediately to provide the funds necessary to complete the project (about $12,000).

In 2008, a bread truck was purchased (see pictures below). It was a standard bread truck that needed a lot of work. Soon it was ready to make the almost 400 mile journey to begin the conversion process. A few months later it was complete and ready for ministry! While Shawn served at MVBC, the new truck was used for 5th Quarters, Backyard Bible Clubs, See You at the Pole Rallies, and more. Many were impacted with the Gospel through the ministry of the new truck.

THE PLAN
Shawn left Mt. Vernon Baptist Church in 2009 to pursue full-time missions. The truck was left at MVBC. Over the next few years the truck was used very little. In December 2013, MVBC voted to donate the bread truck to Hope Missions. The truck was in need of a lot of motor repair. The repairs are almost complete and plans are to get it back in service soon!

Hope Missions has a lot of plans for the Gospel Truck (www.thegospeltruck.org). It will be used to minister to the people of Walker County, AL and surrounding communities on a regular basis. Projects will include: 5th Quarters, Backyard Bible Clubs, Outreach Events, and more. The truck will also be used on Hope Missions' national mission projects. In the future, plans are to utilize the truck to help churches reach their community with the Gospel of Jesus Christ.


BEFORE...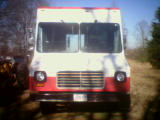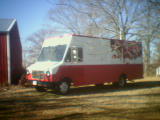 AFTER...